A Coffee with…No. 6 – Gabriel Van Ingen
Today our journey takes us to Nottingham in the UK and we meet up with Gabriel Van Ingen, a photographer that has mostly given up digital. Read on, and look what he has to say.
Caffenol: Hi Gabriel, good to have you here on the caffenol blog. Could you please introduce yourself.
Gabriel: Hi Dirk, I am a photography lecturer and professional photographer based in Nottingham in the Uk. I work and live at  Clear View House where I have a professional darkroom and photographic studio.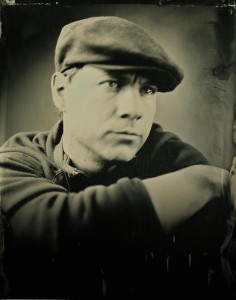 Caffenol: Anything else you want to add about you as a person?
Gabriel: I also publish an independent photography magazine called Lumen Magazine which is published every quarter. It is available to read free online at www.lumenmagazine.com
Caffenol: How do you drink your coffee?
Gabriel: I love a good double shot latte or a macchiato. I used to own and run a coffee shop and gallery in the city centre of Nottingham. I really love my coffee!!!
Caffenol: Being a Pro and making a living out of photography, what do like about it in general? Do you shoot a lot in your free time as well?
Gabriel: Everything I do in life revolves around photography. I teach 3 days from 9-9 and the rest of the week is spent in the studio or in the darkroom. I am currently re-building a new darkroom at Clear View House.
I also work as a professional darkroom printer. I have just recently finished some printing for Roger Mayne, an iconic British photographer. The work will be exhibited this November in the Djanogly Gallery in Nottingham
Caffenol: How did you get into caffenol?
Gabriel: I love experimentation and alternative/historical processes. I cannot resist trying out anything that involves the alchemy of photography.
Caffenol: What kind of gear do you use? Do you have digital stuff as well?
Gabriel: I work with mostly film at the moment. I gave up digital over a year ago (apart from some commercial work) I have a collection of film cameras but I mainly shoot with box Brownies, Holgas, a Bronica SQB, a Mamiya 645af, a 5×4, two 10×8 cameras, several half plate and full plate cameras and the largest camera I own os a 8.5×15 inch Banquet camera. I do own a digital fuji x pro 1 which is a great little camera.
Caffenol: Which is your favorite camera/lens combination at the moment? Why?
Gabriel: The two formats I love the most are 6×6 and 10×8. With the 6×6 I shoot mainly with a 150mm lens. I love shooting with my Holga and with the 10×8 cameras. I can use them for film, wet plate, Harman Dp paper and paper negatives. The 10×8 makes great size negatives for Platinum prints.
Caffenol: Did you ever do wedding shots in caffenol? do you offer caffenol development for your clients?
Gabriel: I shoot with Porta 400 on the Mamiya 645 for weddings but I do offer/develop other commercial work in caffenol.
Caffenol: Which caffenol recipe do you use? Why?
Gabriel: I use a variation of the CL recipe. I always stand develop my caffenol films from 1-2 hours.
Caffenol: You combine Platinum printing & caffenol  photography with caffenol. Can you describe us a bit more how both of those fascinating techniques work together?
Gabriel: With wet plate collodion I can make a glass negative with the plate camera or the 10×8 using the wet plate collodion process. Once I have dried the plate I can then contact print onto fibre based paper and develop it in caffenol. With the Platinum printing process I shoot large format 10×8 negatives and develop them in Caffenol. Then I contact print those to make Platinum prints which have the most amazing tones and detail.
Caffenol: You are also a qualified teacher of photography and a lecturer in photography at the University Centre Peterborough. Is caffenol part of your photography courses? If so, what do your students think about it?
Gabriel: Caffenol is one of the many processes that I have introduced to the photography course since I started there two years ago.
I am a firm believer that learning traditional and historical darkroom craft makes photography students not only more informed but better practitioners of the craft. The students absolutely love the historical and alternative processes and many of them decide to use these processes in their final major exhibitions.
Caffenol: Where do you buy your ingredients for caffenol?
Gabriel: I source my ingredients from Silverprint in the UK, or from Ebay as well as from Bostick & Sullivan in the USA.
Caffenol: Among the gadgets that you own, is there something that you wish you hadn't bought? Why?
Gabriel: A 5×4 fiji Polaroid back for my 5×4. I just bought one as they announced the end of production of the pack film!
Caffenol: How do you scan your Pictures? What kind of tools do you use for post processing? Explain your workflow.
Gabriel: I have recently fallen in love with two films, Ilford FP4 and Adox CHS 100. Both are great for portraits and give the image a certain classic look. I then develop them in Caffenol, stand developed from 1-2 hours depending on the highlight retention/expansion. For web purposes I scan on an Epson v700 Scanner using Silverfast
Caffenol: How do you educate yourself to take better pictures?
Gabriel: I constantly experiment, make mistakes and try again. My library of photographers work is a constant for me, I always spend several hours a week looking through my books. One of the greatest transformations has been through teaching photography; never have I been so analytical about my own work and approach than before I started teaching.
Caffenol: Among your works, which one is your favorite? Why?
Gabriel: mmm, that's a hard one. As yet I have not discovered that image.
Caffenol: Any other shots you want to show?
Gabriel: Sure: These images are from a variety of cameras formats including 6×6, 5×4 and 10×8 Films were Adox chs 100 and FP4 all stand developed.
Caffenol: Whose work has influenced you most?
Gabriel: Bill Brandt and Irving Penn
Caffenol: What is the one thing you wish you knew when you started taking photos?
Gabriel: That Polaroid would stop producing large format. I would have had a fridge full by now!
Caffenol: Where can we find your work?
Gabriel:  I have a website and blog:
I also publish Lumen magazine www.lumenmagazine.com
You can also find me on Facebook, Twitter & Linkedin
Caffenol: Thank you very much for this very interesting Interview! I always find it to be interesting meeting new people and to learn about their style  and technique.
Gabriel: It was a pleasure!
You can be in the caffenol blog as, well! Just contact me, or msg me on Facebook, DM me on Twitter and we get your stuff on here!